Maybe you are already sending out an email newsletter or thinking about starting one in the near future.  Either way, it's important to start collecting new subscribers (potential new customers) on your website if you aren't already.  There may be many, many people visiting your website who may not be ready to contact you today about your services, but could be interested later and potentially become a customer.  Don't lose them because they may not visit your site again.  Add an email capture field to your site so that they can keep in touch with you via your email newsletters.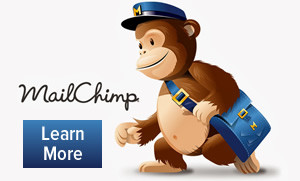 Step one is to choose an email newsletter service provider.  I recommend MailChimp (that's my affiliate link) to all of my clients because they have a 100% free package for smaller businesses needing no more than 2,000 subscribers.  That means it costs you nothing to install the signup form on your website, maintain your subscriber list, and send out thousands of email newsletters per month – for free.  If you get beyond 2,000 subscribers, they still offer the most competitive pricing for upgraded plans.  Their user interface to create the email newsletters is extremely user friendly and they have modern and professional templates to get you started.
Once you create your account, you can go into your account settings area to get the code to install the option form on your website.
Let us know if we can answer any questions for you on this topic.  We would love to hear from you!