In case you missed these available enhancements to your child care website, here's a quick reminder of three of our more popular services: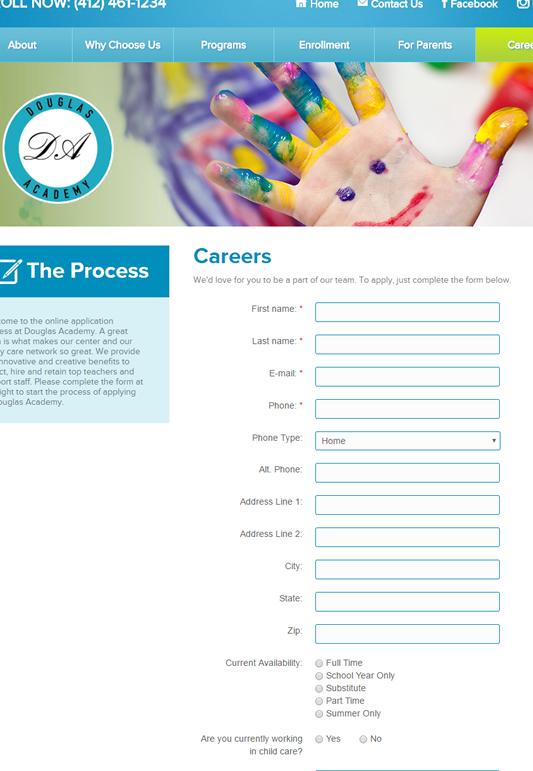 The Detailed Career Inquiry Form (with Resume Upload feature)
We can create a dedicated page for "Careers" on your website and install a detailed Career Inquiry form that includes fields to collect their contact information, their interest, their education and background and also a resume upload feature.  You can now direct interested applicants directly to your website to start the process of becoming a member of your team.  Check out an example at  Douglas Academy's website.
Fillable PDF Child Care Form Creation
Often, our child care business owners want to automate and simplify their child care forms  making it easier for parents to access, fill out and return.  We can take your Microsoft Word or PDF forms and convert them into fillable PDF forms that can be filled in and saved electronically.  Parents can go to your Enrollment page, download, save, and fill out the forms on their computer.  When they are done, they simply click to email them to you – all digitally and efficiently.  Request a custom quote for this service as each form tends to be unique in size and time to convert.
Password-Protected Parent Portal
A Parent Portal page is an additional page (or pages) we can add to your website that are protected via a username and password you choose.  You can use this page to make available information, forms, photos, announcements, etc only to your enrolled parents with the access login.  The content for this page is easily managed via the back-end system, along with all of the other pages on the website.
For more information on these and other add-on services, please visit our "Website Options" page on our website.